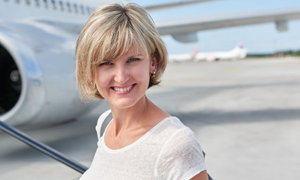 Dear Janie,
My sister cares for our elderly parents because she lives in the same town where they live. I live in another state, but travel there quite often to see the family. When I pack for the trip, I count out the medications I need to take with me. I load them in pill box that has sections for each day.
I never stopped to think about the possibility that unforeseen circumstances would require me to stay longer than expected.
I needed to access information and medical records and contact my doctor's office back home in order to obtain the extra pills I needed. Can information about prescriptions be easily accessed and used when needed through an electronic personal health record?
Signed,
Frequent Traveler
Dear Frequent Traveler,
Having a PHR can save you a lot of time and hassle if plans change and you find yourself out of state without enough of your medications. Just because you're out of state doesn't mean you're out of luck to get a short-term refill of the meds you need. While those travel cases make life easier for taking just the right amount of medication for your trip, they don't have a place where you can record the details of the medication name and dosage. When that information is recorded in your PHR, you don't have to look up phone numbers to contact your regular providers, then work out how you will sign and return release forms so they can send your medication information to the out-of-state pharmacy. Your PHR equips you with all the information you need to give a local pharmacy. Any time you're traveling, things can go wrong. Whether it's a delayed departure, lost luggage, or an unfortunate health event that lands you in an unfamiliar Emergency Department, quick access to your complete and accurate health record can ensure better care and prevent a major inconvenience when you are traveling.
Be well,
Janie