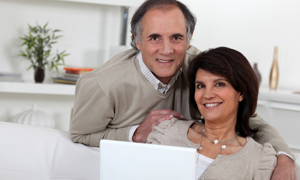 Dear Janie,
My husband went to see his primary care physician (PCP) because he recently started having intermittent spells of dizziness. Over the last few months which included summer and hay season, he has had a stuffy head and was concerned about sinus problems that were previously addressed with allergy tablets that have seemed to have no effect. At an appointment with his doctor, the exam showed mild fluid on the eardrum on one side. The doctor checked his blood pressure which was excellent. His blood sugar was also checked and it was normal. They did an electrocardiogram (EKG). The results were normal and showed no change from his baseline on record. The doctor prescribed a medication for Vertigo. He also ordered a carotid ultrasound to rule out vertigo caused by decreased oxygen flow due to constriction.
After meeting with his PCP, we researched vertigo online and found a common relationship to ear issues. The vertigo medication seemed to be helping. We also read more about circulatory issues. We did not think there was evidence to suggest circulatory issues. When the hospital called a week later to schedule the ultrasound they said out-of-pocket with insurance would be close to $500. We weighed it all out and then my husband declined to have this test done at this time, partly due to cost, and partly because what he was experienced seemed to point more toward an ear problem. We called back the PCP and requested if it would be possible to see a doctor who could check for ear and sinus issues (a $30 co-pay) before considering the $500 imaging test. I feel like my husband and I are already empowered consumers participating in our care, how would having a PHR help us?
Signed,
Empowered Patient
Dear Empowered Patient,
You and your husband seem to have a good understanding of his prior physical condition. You took the time to understand the purpose for the suggested test and the value of the additional information it could provide. You considered the available information and you identified your various options. You weighed the costs and benefits associated with your choices. It sounds like you were more satisfied with the care experience because you played an active role in deciding the direction of the care. Your story isn't just about better decision-making, it's about reducing health care cost and improving the care experience. Thanks for helping us all to see what it looks like when patients and their families are acting in their role as "empowered consumers".
Right now, you might be satisfied with the outcome of the care your husband just received for the vertigo, but what if it comes back or doesn't resolve or gets worse over time? Having a PHR will enable you and your husband to document health information in the present, while it is in the forefront of your life, in case you need to reference back to that information in the future. What if a year from now your husband's vertigo comes back? What if it comes back two years from now? Will you be able to recall the situation as clearly as you do right now? Wouldn't you want to easily pull this information back up to review the details? Wouldn't you want to provide a future care provider with as accurate as possible historical information?
By storing "today's" information in a PHR, you retain a more accurate view of what someday will be "history". And, there's no extra cost for requesting past records, no delay in providing doctors with the information they need, no forgetting exactly what occurred. Your health "health history" belongs to you, not your doctors, so you have what you need at your fingertips.
Be well, Janie